Department of Physics
22 - 24 May 2008
---
The benevolent Egertson Ryerson welcomes delegates to his namesake university.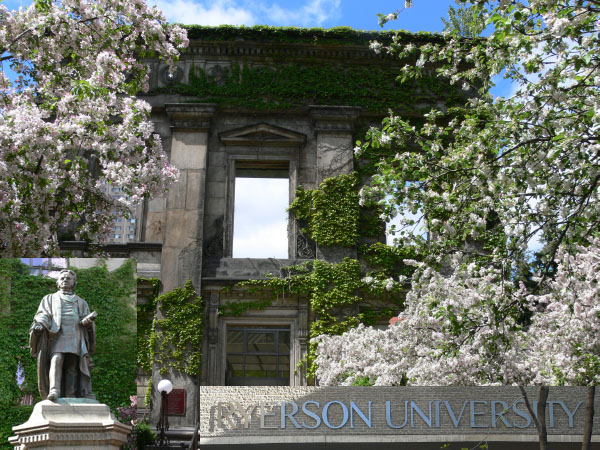 ---
Excited delegates line up to register.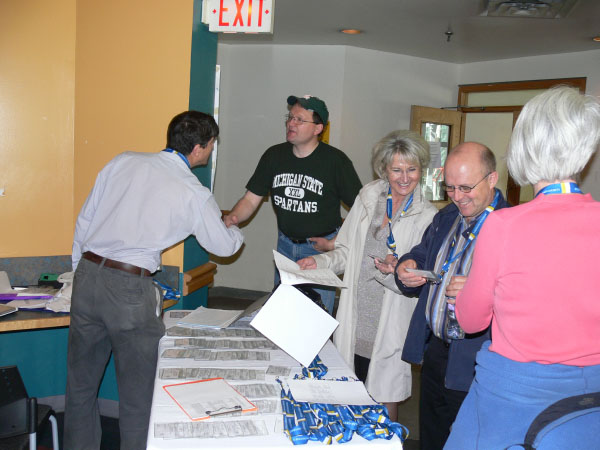 ---
The Opening BBQ dispels the pangs of hunger acquired on the trek to Ryerson.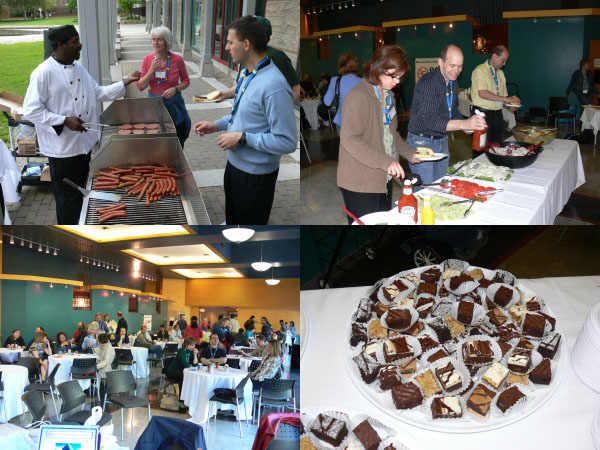 ---
My Favourite Demonstration draws appreciative smiles and encourages audience participation.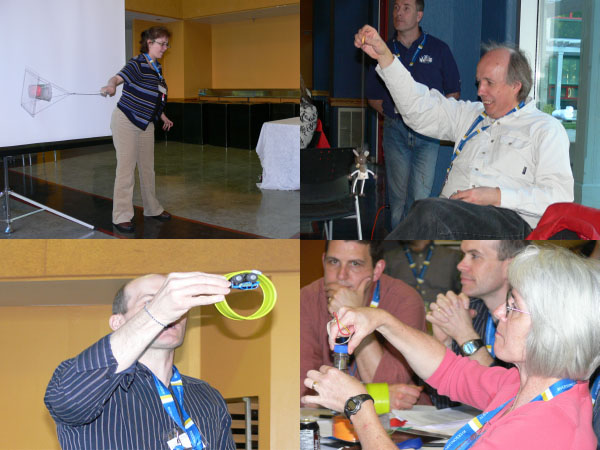 ---
The keynote address by Dr. Tetyana Antimirova outlining Physics Education Research at Ryerson University is followed by an informal discussion over wine and cheese, as well as offering an opportunity to improve upon some of the Favourite Demonstrations. An increase in gravitational potential energy adds zest to the Walmart Bead Snake demonstration.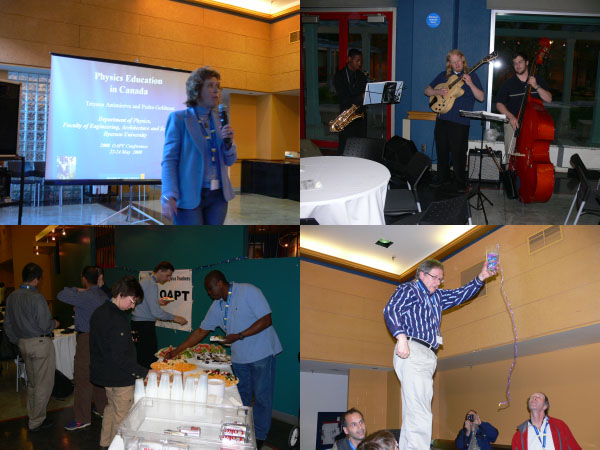 ---
Dr. Pedro Goldman welcomes the OAPT to Ryerson University with the admission of its first canine member, Ruby. Note that Ruby sports a proper registration name tag.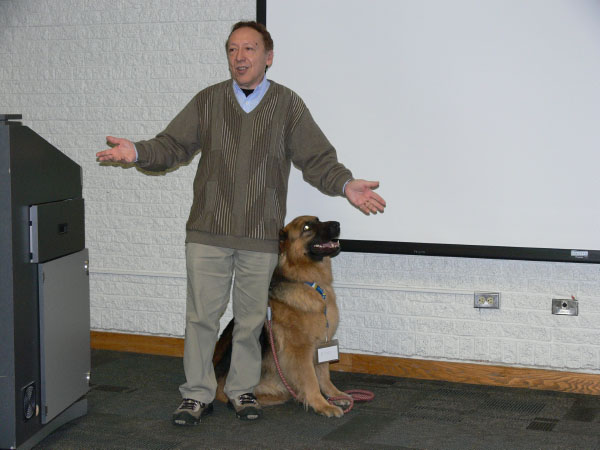 ---
Jahan Tavakkoli dispels some of the mysteries of ultrasound imaging, while Vlad Toronov shows how near infrared can be used to study brain functions.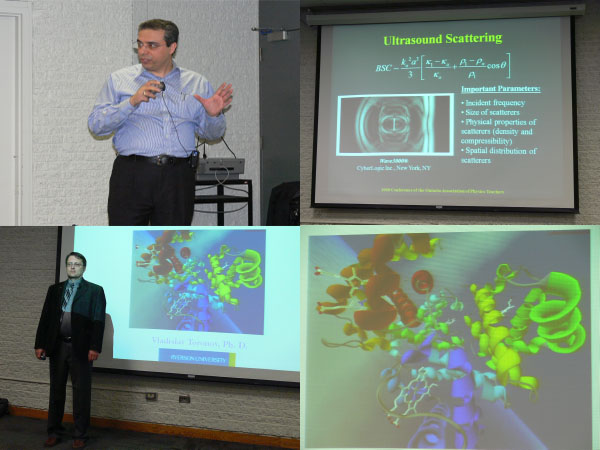 ---
Between talks delegates rejuvenate brain cells with caffeine, sugar, and other nutritious offerings. This is also a time to browse displays and try out some new physics equipment. The executive meets at lunchtime to conduct OAPT business. Those contemplating a role in the functioning of the OAPT are always invited to attend.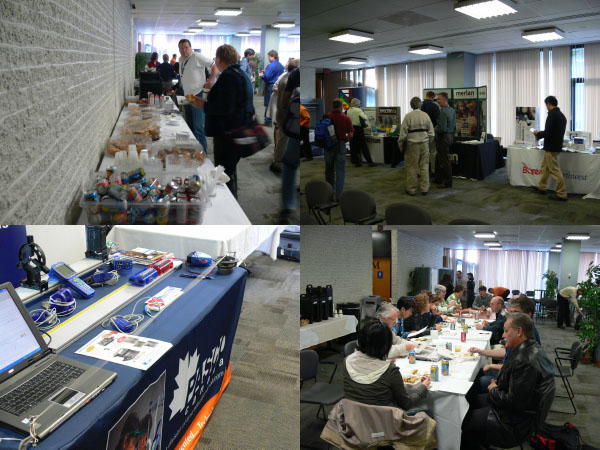 ---
After lunch delegates board busses for the various tours on offer. On arrival at the Rogers Centre, we enjoy an exciting ride up a freight elevator to the forbidden 6th level. Located here is much of the engineering that ensures the smooth working of the centre under all conditions, including huge drain pipes to carry away rain water from the roof.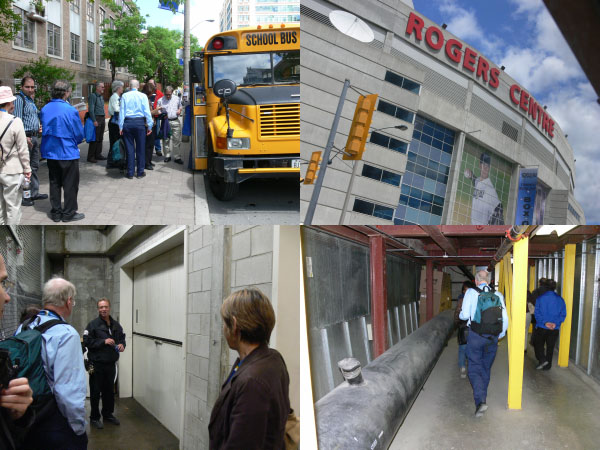 Mammoth compressors keep the the air conditioning cooling patrons on the enclosed levels on those sultry summer days, while giant diesel generators stand ready to produce backup electricity in seconds in the event of a problem with OPG. Clearance is restricted in some places, but no delegate received serious head injuries requiring hospitalization. Leaving the engineering level, we were treated to a birds eye view of the Blue Jays warming up for the evening game.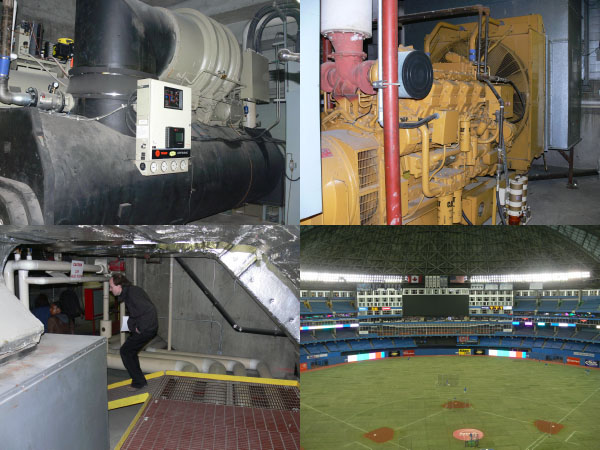 Lady Luck sometimes smiles on physics teachers, and the roof began its opening cycle during our tour, affording a different view of the domed stadium, as well as the CN Tower.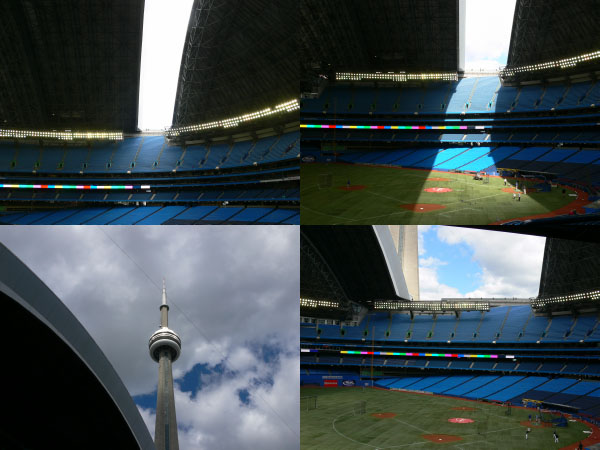 ---
After a pleasant walk back to Ryerson down some of the quaint streets of Old Toronto, delegates gathered for a symposium and banquet. John Caranci was presented with the coveted Life Membership in the OAPT. Here John shows us one of the requirements for this honour, the knack of suspending a spoon from one's forehead without the benefit of Crazy Glue.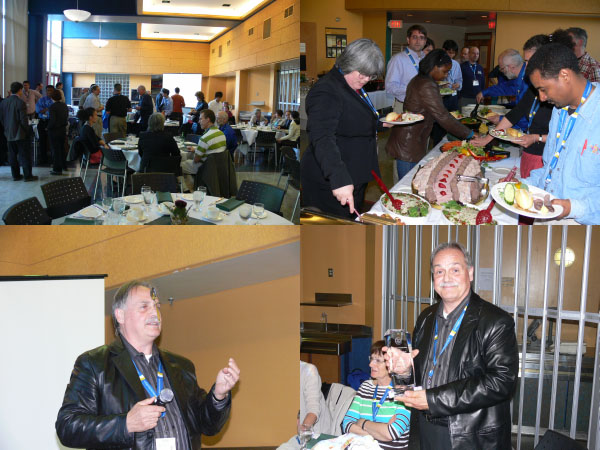 Katharine Hayhoe flew up from Texas to share her research on Climate Change. After a riveting talk, outgoing OAPT President James Ball presented Katharine with a token of our thanks. Not surprisingly, she found herself mobbed by interested parties with myriad questions.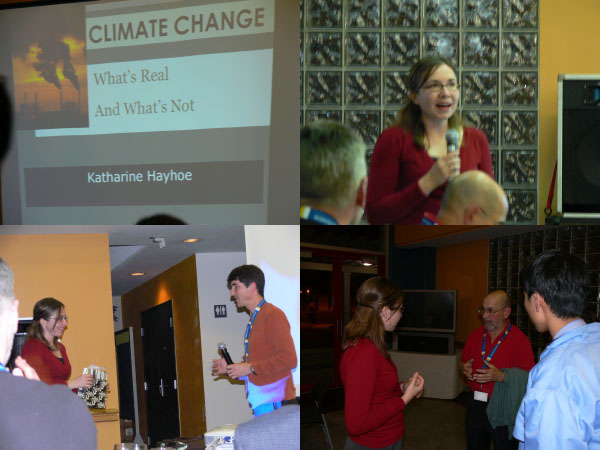 ---
Workshops on Saturday morning included Roberta Tevlin, who shared ideas for teaching General Relativity using common household objects to demonstrate conditions in free fall. A piece of stretchy fabric makes a creditable model of a black hole that can swallow up an objects that stray too close. After such heavy thinking, lunch came as a welcome break.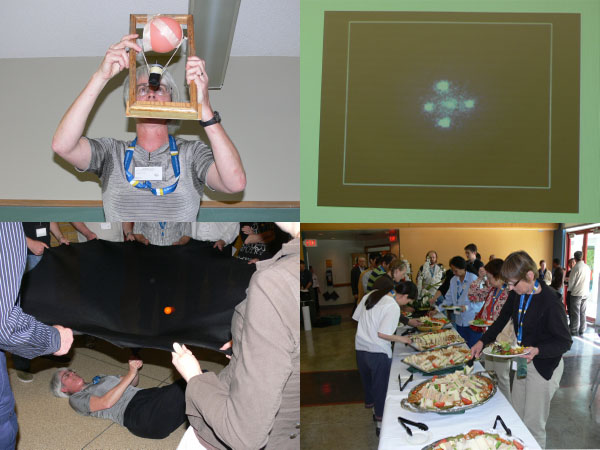 ---
Ernie McFarland of the University of Guelph presents a bouquet of thanks to Tetyana Antimirova, part of the team at Ryerson, along with Marina Milner-Bolotin and Pedro Goldman, who performed the countless behind-the-scenes tasks that make for a successful conference.
Undergrad students were present at most tables to lead a discussion on what can be done to smooth the transition from high school to university. Some of the ideas generated were shared with the group.
In keeping the an OAPT tradition, Jim Hunt, formerly at the University of Guelph, closed the conference with another of his stimulating excursions into little-known areas of practical physics. This time he focussed on two optical toys from the 16th century.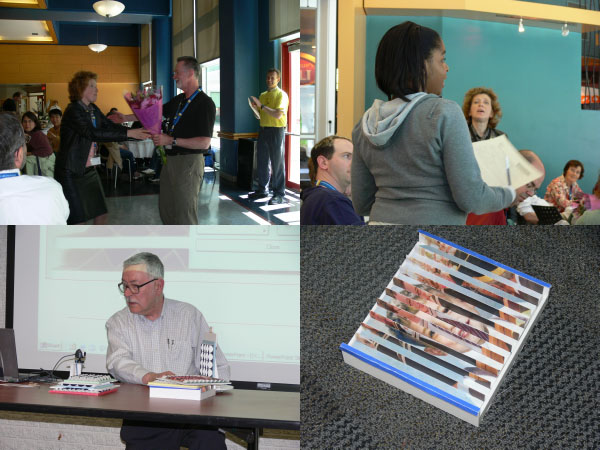 ---
OAPT 2008 has concluded. See you next year at Royal Military College, in Kingston.